Florida Meeting Facilities
Destin Meetings at Hilton Sandestin Beach
We have a variety of indoor and outdoor meeting spaces available for you and your attendees. From an intimate boardroom to spacious ballrooms and outdoor decks — we have something to fit every style and size of meeting.
Our indoor venues are perfect for presentations, luncheons, formal receptions, or classroom-style sessions and events. On our outdoor decks, schedule an unforgettable coffee break by on the Gulf or a sunset cocktail hour. The ability to mix and match indoor and outdoor activities is a huge benefit of our property.
See below for more details about each of our meeting venues.
REQUEST A PROPOSAL
read MORE ABOUT Meetings and Events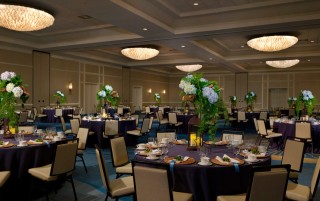 Emerald Ballroom
The spacious and elegant Emerald Ballroom at Hilton Sandestin Beach Golf Resort & Spa can accommodate up to 800 guests. Located on the Lobby Level of the Hilton Sandestin Beach's Emerald Tower, this space offers 9,504 square feet, which can be broken down into five separate rooms. The ballroom features opulent chandeliers and state-of-the-art technological facilities offering advanced capabilities for audio-visual presentations and other events. The ballroom's large foyer, which can accommodate up to 600 guests, is perfect for registration, receptions, as well as coffee and breakfast gatherings.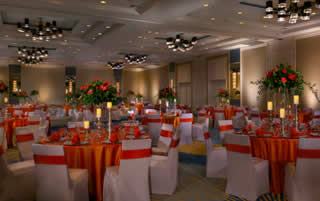 Coral Ballroom
The Coral Ballroom is conveniently located across from the Emerald Ballroom, and close to the Emerald Registration Desk and business center, can accommodate up to 500 guests. It offers 5,600 square feet that can be broken down into four separate rooms, which works well for group meetings, events and breakout activities.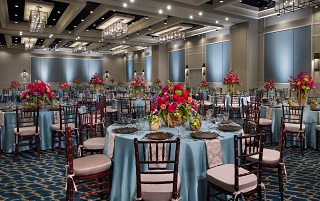 Coastal Ballroom
The Coastal Ballroom offers 7,500 square feet and can be broken into three equally sized sections. The ballroom offers its own separate pre-function meeting space perfect for cocktail receptions or intimate gatherings. The ballroom's floating ceiling and exterior access allows groups to state elaborate events and innovative displays.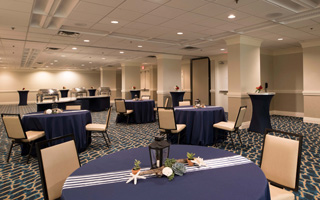 Sandpiper Room
The Sandpiper Room can accommodate up to 135 guests. Located in the Lower Lobby of the resort's Emerald Tower, this space is considered to be somewhat secluded from the public areas. It offers 4,064 square feet and is ideal for classroom-style meetings and exhibits. It also offers additional space for breakouts.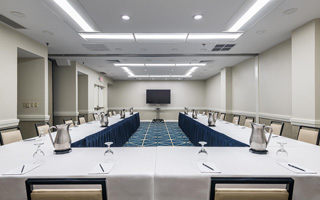 Heron and Pelican Rooms
The Heron and Pelican rooms are located near the Sandpiper Room, on the Lower Lobby level of the Emerald Tower. As with the Sandpiper Room, these rooms are privately tucked away and thus perfect for more intimate gatherings such as classroom-style meetings and breakout sessions. The Heron Room is 840 square feet, while the Pelican Room is 902 square feet.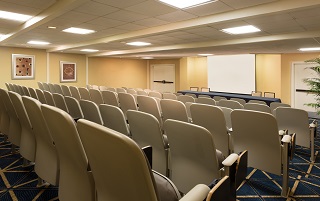 Theater
Our 104-seat tiered theater is perfect for events with a technological edge. Located on the Lower Lobby level of the Emerald Tower, the theater is comprised of 1,260 square feet. Each theater seat includes a fold-up writing desk convenient for note-taking.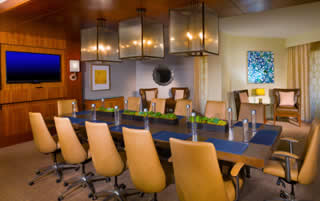 The Boardroom
The beautifully decorated and stylish Boardroom can seat 14 guests. Located on the Lobby Level of the Emerald Tower, this room is perfect for smaller gatherings and intimate conferences. It features conveniences including a private bathroom, balcony and separate foyer area.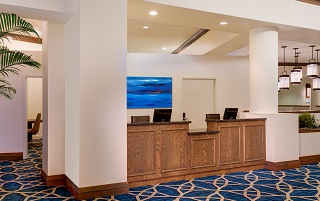 Registrations Desks
Our two registration desks are conveniently located to best assist with guest registrations and check-ins. Both desks are wired for Internet access and feature phones and lockable storage space.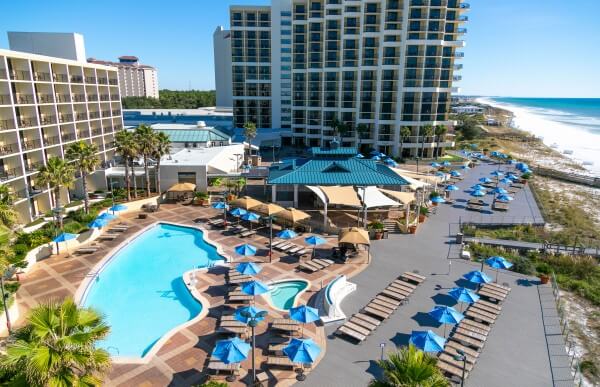 Sunset Deck
The Sunset Deck, with its breathtaking view of our beach's sugar white sand and emerald-green water, can accommodate up to 500 guests. It offers 8,000 square feet and is ideal for one-of-a-kind receptions overlooking the Gulf of Mexico.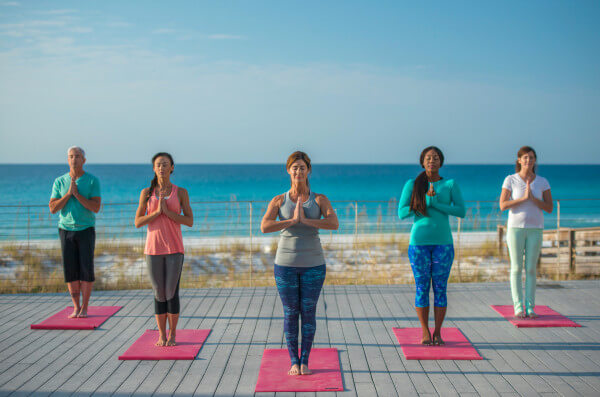 Sunrise Deck
The Sunrise Deck is just a bit smaller than the Sunset Deck. It offers 4,600 square feet. Located right off the boardwalk for convenient beach access, this area can accommodate up to 325 guests comfortably.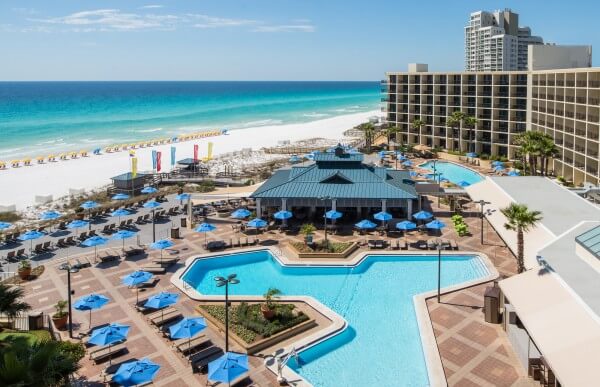 Barefoot's Deck
The Barefoot's Deck is the largest of our outdoor space reaching 8,000 square feet in size. It can accommodate up to 800 people and is conveniently located between the Sunrise Deck and the Sunset Deck.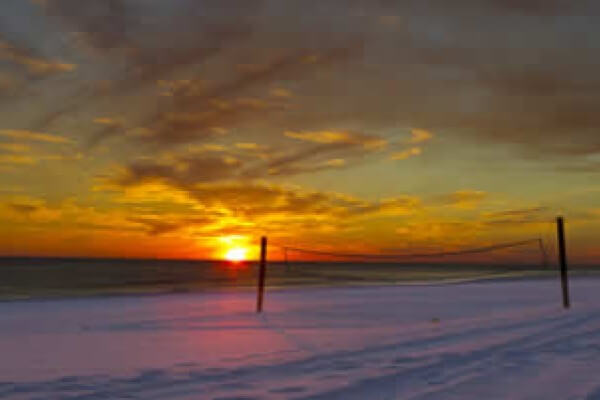 The Veranda
The Veranda provides ample space overlooking the main pool deck and is conveniently close to the main lobby. This space is partially covered with our courtyard awnings and makes for a perfect cocktail hour location.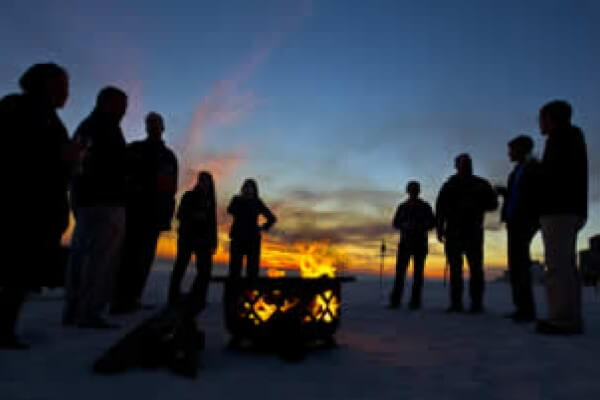 Beach
The options for meetings and events on our beautiful beach are countless, whether it's a nighttime reception complete with fire pits or a team-building "Beach Olympics" during the day. Our staff of event experts can help you come up with the beach gathering that's best for you.
A PLACE TO GATHER
Destin Voted "Best Beach" by the readers of USA Today!
Tripadvisor Travelers' Choice Award (2021)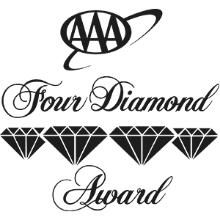 Traveler Review Award (2021)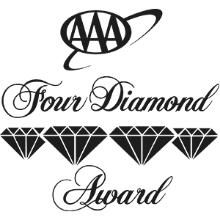 Four Diamond Restaurant (2000-2019)

Traveler Review Award (2021)